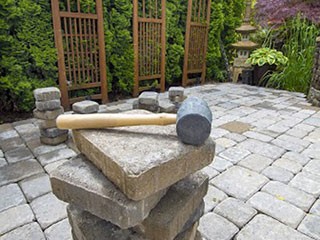 There are plenty of reasons why pavers are such a popular surface option for backyard patios. Some of these have to do with their aesthetic appearance; the ability to pick out your own custom landscape designs is very attractive. Other reasons are more practical, such as the fact that pavers are safe to use all year round, regardless of weather.
Use Your Patio All Year
Patios constructed from other landscaping materials such as wood or stamped concrete can be problematic. They either suffer from poor drainage or become particularly slippery when wet - in either case, it makes them dangerous to use when the weather's less than welcoming. However, because pavers provide a lot of traction and allow water to drain very easily, they can be used safely at any time of year.
Create a Stunning Backyard Patio
Pavers give you almost unlimited creative options. Choose from a stunning variety of brick shapes and designs, from cobbles to flagstones and much more besides. Add to this the wide range of colors available, and the patterns these bricks can be arranged in, and the only limit is your imagination. This lets you create a patio that's a real focal point in your backyard landscape, not just a functional slab of concrete.
Easy To Maintain
Many other landscaping materials can be hard to look after, especially when they become damaged. If concrete is cracked, for instance, you'll need to tear up a large section and re-lay it, at great expense. Damaged pavers, however, can simply be levered up and replaced with new units without much trouble. Maintenance generally consists of a clean and re-seal once a year, making pavers a great low-maintenance option.
Choose Your Perfect Patio Today
Nobody understands the business of creating backyard patios like Backyard Pavers Mission Viejo. Our team provides expert installations and advice in the Mission Viejo area, so if you're considering investing in a top-quality backyard space, just get in touch with us today.