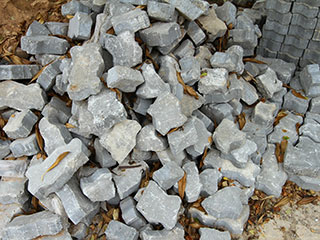 Pavers provide a wide range of benefits to any home. One of the key advantages they have over other landscaping materials such as stamped concrete or asphalt is their stability and safety. Being able to provide fast water drainage and to remain stable for years is vital, and requires a careful, in-depth installation process.
Creating The Paver Foundations
Space will be cleared for your new pavers, and any debris such as old paving material, rocks and tree roots will be removed. Earth will be excavated to a sufficient depth for the paver foundations, usually at least a foot, and leveled to provide a flat starting surface. This part is quite crucial, as it ensures long term stability and simplifies any and all future maintenance and repairs.
Natural Drainage and Weed Resistance
The first layers of foundation consist of anti-weed matting. This prevents unwanted plants from trying to grow through the pavers, compromising their integrity. Following this, a layer of gravel will be put in place. This can be anywhere from 3-7 inches deep, depending on how heavy the expected foot or vehicle traffic is. This gravel is followed up by a layer of sand, which is flattened carefully to create a base on which the pavers themselves can stand.
Installing Your Pavers
The bricks themselves will now be inserted, carefully following the pattern you've chosen. Each brick will have a small gap between it and its neighbor - this allows surface water to penetrate through to the ground, rather than creating puddles. These gaps are filled with polymeric joint sand, which is then wetted and left for 24 hours to dry completely.
The Finishing Touches
To ensure your backyard or driveway pavers stay stable, a trench of concrete edging can run around them. Brick sealant will also be applied, which helps provide protection against stains and UV rays. Once this has dried, your new pavers are ready to be used.
Design Your New Paved Landscape Today
Pavers offer a long-term durable surface with many benefits. If you're looking to invest in a new paved driveway, sidewalk, patio or any other part of your property's landscape then get in touch with us at Backyard Pavers Mission Viejo today to see how our paving specialists can help bring your imagined design into reality.