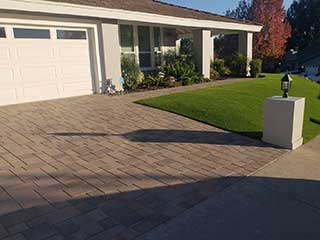 Have A Longer Lasting Driveway
When you choose pavers for your driveway, you are choosing something that is not only beautiful, but will last you for many years as well. While materials such as asphalt, gravel and poured concrete are more traditional and often cheaper, they will never last as long. A lot of this has to do with the wear from heavy vehicular loads over time and the effects of mother nature. So when it comes time for you to get a new driveway, make the choice that will stand the test of time and choose our experts for the job!
Easy All Around Maintenance
One great advantage of having driveway pavers is the maintenance factor that comes along with them. A lot of times people need to dig under their driveways to access or install utility lines. Usually this entails ripping out the old driveway in it's entirety, and then replacing it anew afterwards. Our professionals can easily remove a designated section and when the job is done, just reinstall the same ones again! The time and money this will save you is worth every penny spent.
No Fuss Paver Replacement
True driveway pavers have superb longevity, however, there may come a time when one or more needs to be replaced. No worries because our professionals can match the right style needed and replace your old or broken pavers with ease. You will love how quickly replacements are installed and how hassle - free it will be for you to deal with too! It has never been so easy to get your driveway looking fresh again.
Contact Our Experts Today
Here at Backyard Pavers Mission Viejo you can always count on us for reliable, professional, and honest service by some of the best around. Whatever your needs may be, our team is here and ready to help. Don't wait, contact us today and see what our company can do for you!