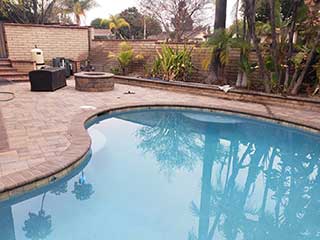 Replacements Made Easy
If you have a pool deck made of pavers, then you might know just how frustrating finding a broken one is. You can rest easy knowing that, with us, it doesn't have to be. Pillars & Pavers are professional, experienced and reliable so you don't have to worry about anything. Whatever style your outdoor area is, our team will match the new pavers with the old and replace them fast! Once finished it will look as good as new and you will be able to smile knowing you had us every step of the way.
Fix Shifting With Edging
While it is true that pavers look beautiful by the poolside and can transform the area into a real focal point, if installed without proper edging they can start to shift around the ends. This can create gaps and make the area look unappealing. Our team is happy to come to your home and take the correct measurements to find you the perfect edging, and professionally install it too! Afterwards you will be relieved knowing that your pool deck pavers will stay in place and look great for many years to come.
Top Notch Installation
Choosing pavers for your pool and deck is not only stylish, but also safer due to their slip-resistant nature. Our company is one of the best around when it comes to quality installations that you can depend on. There are many options to choose from, including custom ones, so finding the color and style to match your desires is always possible. If you want to spice up your home and like hiring people who are dependable and trustworthy, look no further because now you have us!
Contact Us Now
So remember, no matter what you are looking for when it comes to pavers, here at Backyard Pavers Mission Viejo you can always count on us. Schedule your appointment or consultation online today or give us a call at any time!